The Girl in the Glass Box: A Jack Swyteck Novel (Hardcover)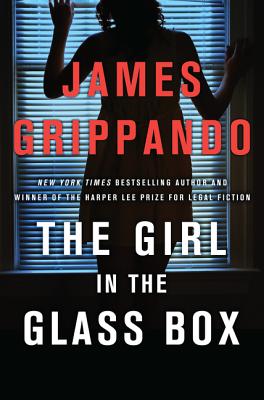 $27.99
Email or call for price.
Other Books in Series
This is book number 15 in the Jack Swyteck Novel series.
Description
---
Miami attorney Jack Swyteck lands in the heart of the contentious immigration debate when he takes on the heart-wrenching case of an undocumented immigrant who fled to America to protect her daughter and save herself, in this timely and pulse-pounding thriller that explores the stories behind the headlines from New York Times bestselling author James Grippando, winner of the Harper Lee Prize for Legal Fiction.
Julia Rodriguez and her teenage daughter Beatriz escaped bloodthirsty gangs, random violence and, Julia's abusive husband back in El Salvador. Arriving in Miami, mother and daughter struggled to carve their own piece of the American dream. While life in the States is hard, it is safer, until Julia's rejects her boss's unwanted sexual advances. Suddenly—thanks to an "anonymous" tip to U. S. immigration authorities—she is arrested, locked in detention with criminals, and slated for deportation. Jack's only viable legal move to save her is asylum—a long shot that's become nearly impossible in today's charged political climate.
When Julia and Beatriz made the perilous trek north to freedom, they thought they'd left the danger behind them. But now, even Miami isn't safe. A ruthless enemy may have tracked them to south Florida and is biding time, patiently waiting to strike.
In a case where the stakes have never been higher, Jack Sywteck may not be able to save his client—even if he wins.
About the Author
---
James Grippando is a New York Times bestselling author with more than thirty books to his credit, including those in his acclaimed series featuring Miami criminal defense attorney Jack Swyteck, and the winner of the Harper Lee Prize for Legal Fiction. He is also a trial lawyer and teaches law and literature at the University of Miami School of Law. He lives and writes in South Florida.
Praise For…
---
"Pulling current events into a tense, action-filled plot is… a specialty of James Grippando. [He] knows how to create a suspenseful plot in which every scene is believable. . . . sculpt[ing] harrowing scenes as he makes us care very much about each character." — South Florida Sun-Sentinel
"Both a thrilling page-turner and a story about love, family, and survival." — The Big Thrill
"Grippando focuses on building a plot around a deadly situation with terrific characters and scenes so tensely written that I was literally breathless by the finale. . . . The Girl in the Glass Box is a great and pertinent legal thriller that pulls out all the stops straight through to the fiery climax." — Bookreporter.com
"The Girl in the Glass Box is now Grippando's most thrilling [novel].  It moves fast and is like the prose equivalent of an action movie car chase. . . . one of the most effectively thrilling legal thrillers that I have ever read." — ComicBookBin.com
"Grippando weaves immigration law and policy, domestic abuse, and other current social issues into a story that will quickly capture and keep the attention of readers who may be compelled to read this plot-driven legal thriller in one sitting." — Library Journal (starred review)
Praise for James Grippando: "Grippando, a former attorney, has the legal stuff down cold, and his writing style is impeccable. This would be a perfect time for legal-thriller fans who haven't yet checked out this series to join the crowd." — Booklist
"Grippando is equally skillful at ratcheting up the tension and plucking at your heartstrings." — Kirkus Reviews
"Timely...Grippando keeps the narrative moving forward at a steady clip, expertly interweaving each character's point of view into the plot...[and] keeps the tension building to a heart-racing climax." — Publishers Weekly