Be Not Far from Me (Paperback)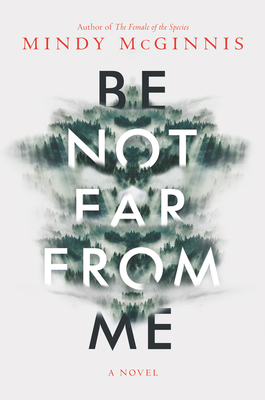 Spring 2020 Kids Indie Next List
---
"While on a camping trip, Ashley, upon startling her boyfriend having sex with his ex, rushes away into the woods. Luckily for her, she has experience in the woods and training in survival. Unluckily, she has run off without her pack or even her shoes. The rest of the book is the narrative of her survival. The terse and tense prose lends itself well to the story. An amazing addition to YA survival novels."
— Rosie Lee-Parks, Readers' Books, Sonoma, CA
Description
---
Hatchet meets Wild in this harrowing YA survival story about a teenage girl's attempt to endure the impossible, from the Edgar Award-winning author of The Female of the Species, Mindy McGinnis.
The world is not tame. Ashley knows this truth deep in her bones, more at home with trees overhead than a roof.
So when she goes hiking in the Smokies with her friends for a night of partying, the falling dark and creaking trees are second nature to her. But people are not tame either. And when Ashley catches her boyfriend with another girl, drunken rage sends her running into the night, stopped only by a nasty fall into a ravine.
Morning brings the realization that she's alone—and far off trail. Lost in undisturbed forest and with nothing but the clothes on her back, Ashley must figure out how to survive with the red streak of infection creeping up her leg.
About the Author
---
Mindy McGinnis is the author of several young adult novels, including A Long Stretch of Bad Days, The Last Laugh, The Initial Insult, Heroine, The Female of the Species, and A Madness So Discreet, winner of an Edgar Award. She writes across multiple genres, including postapocalyptic, historical, thriller, contemporary, mystery, and fantasy. While her settings may change, you can always count on her books to deliver grit, truth, and an unflinching look at humanity and the world around us. Mindy lives in Ohio. You can visit her online at mindymcginnis.com.
Praise For…
---
"McGinnis' visceral and emotional tale features a strong, stubborn, and alarmingly capable protagonist with unwavering respect for the natural world... Impossible to put down." — Kirkus Reviews
"This is absolute catnip for fans of survival stories... an absolute firecracker of a narrator, wickedly funny, deeply knowledgeable about the woods, and insightful about the wilderness of teenage interactions... Readers not quite ready for Strayed's Wild may want to start their journey here." — Bulletin of the Center for Children's Books
"McGinnis is known for writing tough female protagonists and gritty realism, and she holds nothing back in this latest novel. Ashley is angry, vulnerable, smart, and compelling, and her journey is marked by setbacks, terror, and plenty of gross-out moments. This captivating, fast-paced novel is Hatchet for an older crowd. Highly recommended where adventure and survival fiction are popular." — School Library Journal
"A harrowing and life-affirming journey of transformation." — ALA Booklist
Praise for The Female of the Species: "[A] gripping story that should be read and discussed by teens, as well as those who work with them."   — ALA Booklist (starred review)
"Each word has been specifically chosen, each character superbly and humanly sculpted, the plot line masterfully completed. McGinnis plays with the readers and they are at her mercy." — Voice of Youth Advocates (VOYA) (starred review)
"McGinnis gracefully avoids the pitfalls of creating a teenage vigilante, instead maintaining a sense of piercing realism." — Publishers Weekly (starred review)
"An unflinching look at rape culture and its repercussions." — Kirkus Reviews (starred review)
"This is an astoundingly dark but beautifully written tragedy."
— School Library Journal (starred review)
"[I]t's raw. Not "raw for YA." Real-deal raw. And violent. And unforgettable. McGinnis explores both and she goes there in a way no one really has before in YA." — The Globe and Mail
"Your heart may still be pounding after you've finished this book." — New York Times Book Review
Praise for Heroine: "[A] realistic portrayal of how easy it is to develop an opiate addiction and the very real consequences of addiction. A timely and important message for teens everywhere." — ALA Booklist
"A compassionate, compelling, and terrifying story about a high school softball player's addiction to opioids. The writing is visceral, and following Mickey as she rationalizes about her addiction is educative and frightening. A cautionary tale that exposes the danger of prescription medications by humanizing one victim of America's current epidemic." — Kirkus Reviews (starred review)
Praise for This Darkness Mine: "Rich imagery and a ruthless protagonist propel the novel forward to its shocking, ominous conclusion." — ALA Booklist
Praise for A Madness So Discreet: "McGinnis excels at rich character development; every person readers meet makes a dramatic impact on the story and on Grace." — School Library Journal
"McGinnis can surely tell a story." — USA Today
Praise for Not a Drop to Drink: "The intensity of action moves the story forward, but not at the expense of character development. The honest and hopeful ending-while not 'happily ever after'—will resonate with readers and leave them asking for more." — Voice of Youth Advocates (VOYA)
"Those in search of fierce female survivalist characters need look no further than this." — ALA Booklist