Be Frank With Me: A Novel (Paperback)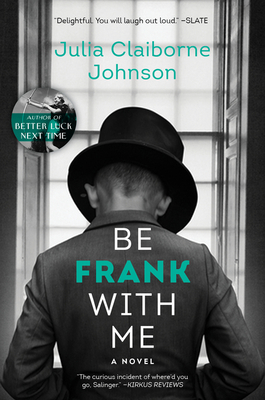 $16.99

Usually Ships in 1-5 Days
Staff Reviews
---
A reclusive author is forced to write a second book and her editor sends his assistant to help. But instead of helping with the writing, the assistant is forced to watch the child no one knew existed. A witty, charming, and beautifully written novel that readers are sure to love.
— From
Mary's Book List
Description
---
AN AMERICAN BOOKSELLERS ASSOCIATION ADULT DEBUT HONOR BOOK
WINNER OF THE AUDIE AWARD FOR BEST FEMALE NARRATOR
LOS ANGELES TIMES BESTSELLER
A sparkling talent makes her fiction debut with this infectious novel that combines the charming pluck of Eloise, the poignant psychological quirks of The Curious Incident of the Dog in the Night-Time and the page-turning spirit of Where'd You Go, Bernadette.
Reclusive literary legend M. M. "Mimi" Banning has been holed up in her Bel Air mansion for years. But after falling prey to a Bernie Madoff-style ponzi scheme, she's flat broke. Now Mimi must write a new book for the first time in decades, and to ensure the timely delivery of her manuscript, her New York publisher sends an assistant to monitor her progress. The prickly Mimi reluctantly complies—with a few stipulations: No Ivy-Leaguers or English majors. Must drive, cook, tidy. Computer whiz. Good with kids. Quiet, discreet, sane.
When Alice Whitley arrives at the Banning mansion, she's put to work right away—as a full-time companion to Frank, the writer's eccentric nine-year-old, a boy with the wit of Noel Coward, the wardrobe of a 1930s movie star, and very little in common with his fellow fourth-graders.
As she slowly gets to know Frank, Alice becomes consumed with finding out who Frank's father is, how his gorgeous "piano teacher and itinerant male role model" Xander fits into the Banning family equation—and whether Mimi will ever finish that book.
Full of heart and countless "only-in-Hollywood" moments, Be Frank with Me is a captivating and unconventional story of an unusual mother and son, and the intrepid young woman who finds herself irresistibly pulled into their unforgettable world.
About the Author
---
Julia Claiborne Johnson is the author of the bestselling Be Frank with Me, a finalist for the American Bookseller's Association Best Debut Novel Award. She grew up on a farm in Tennessee before moving to New York City, where she worked at Mademoiselle and Glamour magazines. She now lives in Los Angeles with her comedy-writer husband and their two children.
Praise For…
---
"Readers will find themselves captivated." — People
"Delightful. You will laugh out loud." — Slate
"Johnson's magnificently poignant, funny, and wholly original debut goes beyond page-turner status. Readers will race to the next sentence. And the next. Her charming, flawed, quietly courageous characters, each wonderfully different, demand a second reading while we impatiently await the author's second work." — Library Journal (starred review)
"A lot of fun to be had along the way. Sit back…and enjoy the show." — New York Times Book Review
"Julia Claiborne Johnson ably conjures a quirky cast and a privileged California world. BE FRANK WITH ME is about being an outsider and the ways in which differences help others see the world in a new way. Like Frank, this offbeat story has a big heart." — BookPage
"Johnson's spare, wry, Salingeresque style evokes those great oddball novels of the past and provides a charming take on the parent-of-challenged-child theme." — Daily Mail (London)
"Frank Banning may be the most endearing scene-stealer you'll ever meet in the pages of a book...Johnson proves it's possible to write a comic novel that, at times, is heartbreaking." — Richmond Times-Dispatch
"This book has stayed with me since I turned the last page. Frank is one of the most memorable children in contemporary fiction." — Irish Times
"Simply delightful...A warm and friendly book, with characters you want to get to know." — Sunday Times (London)
"Hilarious, poignant and full of unexpected gems, BE FRANK WITH ME illuminates the strange ways literature can parallel life, and introduces readers to one of the most charming, lovable and maddening children in fiction." — Huffington Post
"Witty dialogue, irresistible characters, and a touch of mystery make this sweet debut about a quirky Hollywood family an enjoyable page-turner." — Booklist
"The curious incident of where'd you go, Salinger." — Kirkus Reviews
"Julia Claiborne Johnson has struck gold in creating Frank Banning -- a one-of-a-kind exasperating, witty and endearing nine-year-old genius who functions as the beating heart of this marvelous book." — Julie Schumacher, author of Dear Committee Members
"Witty, but never cutesy. Deeply felt, but never sentimental. Peopled with deeply flawed, fully realized characters I cared about... I loved every minute I spent in Julia Claiborne Johnson's glass house with her cast of dedicated stone-throwers. This one is special---don't miss it." — Joshilyn Jackson, New York Times-bestselling author of The Opposite of Everyone
"There's so much to love about this novel: the hilarious one-liners, the unforgettable characters, the unexpected moments of tenderness and all the funny, sad, poignant twists and turns this story takes. I lost myself in these pages and you will too." — John Searles, nationally-bestselling author of Help for the Haunted
"Julia Claiborne Johnson has written an effervescent gem of a novel, expertly balancing on a literary tightrope between lighthearted and heartbreaking. BE FRANK WITH ME is peopled by characters at once utterly unique, and entirely authentic. I may re-read this book just to spend more time with Frank." — Laura Nicole Diamond, author of Shelter Us: a novel
Beautifully written, brimming with insight, mystery, and benevolent wit, Julia Johnson had me gripped from the first chapter to the final page of BE FRANK WITH ME." — Julia Sweeney, author, actress, comedienne
"BE FRANK WITH ME is complex, nuanced, detailed and profound. In other words, funny, in the best, most resonant way. Read it with both eyes because it will delight both the thinky and the feely parts of your brain." — Dave Foley, comedian and technically, an actor
"What a charmer this book is! From the very first page, I fell hard for Frank, an adorable oddball with an amazing brain, a wardrobe to die for, and a lonely fragility that pierced my heart again and again." — Marisa de los Santos, New York Times-bestselling author of Love Walked In and The Precious One