Ordinary, Extraordinary Jane Austen: The Story of Six Novels, Three Notebooks, a Writing Box, and One Clever Girl (Hardcover)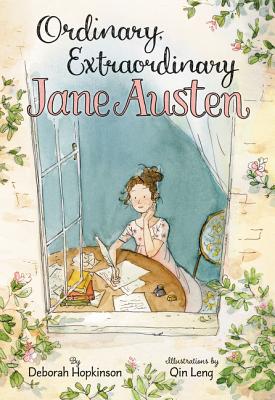 Description
---
A gorgeous and inspiring picture book biography of Jane Austen, one of the most beloved writers of all time, from award-winning author Deborah Hopkinson. This nonfiction picture book is an excellent choice to share during homeschooling, in particular for children ages 4 to 6. It's a fun way to learn to read and as a supplement for activity books for children.
It is a truth universally acknowledged that Jane Austen is one of our greatest writers.
But before that, she was just an ordinary girl.
In fact, young Jane was a bit quiet and shy; if you had met her back then, you might not have noticed her at all. But she would have noticed you.
Jane watched and listened to all the things people around her did and said, and locked those observations away for safekeeping.
Jane also loved to read. She devoured everything in her father's massive library and before long, she began creating her own stories. In her time, the most popular books were grand adventures and romances, but Jane wanted to go her own way...and went on to invent an entirely new kind of novel.
Ordinary, Extraordinary Jane Austen includes a timeline and quotes from Austen's most popular novels.
Parents and grandparents, as well as teachers and librarians, will enjoy introducing children to Jane Austen through this accessible, beautifully packaged picture book.
About the Author
---
Deborah Hopkinson is the author of Small Places, Close to Home and Ordinary, Extraordinary Jane Austen, among more than fifty acclaimed works for young readers including picture books, middle-grade fiction, and nonfiction that help bring history and research alive. Deborah lives near Portland, Oregon with her family and a menagerie of pets. You can visit her online at www.deborahhopkinson.com.
Qin Leng was born in Shanghai and later moved to France, then to Montreal in Canada. She now lives in Toronto with her husband and works as a designer and illustrator. She grew up surrounded by paintings, and her father, an artist himself, was a great influence on her. Qin graduated from the Mel Hoppenheim School of Cinema and has received many awards for her animated short films. Her picture books have been nominated for such prizes as the prestigious Governor General's Literary Award, and she won the APAAL for Best Picture Book. You can visit her at www.qinleng.tumblr.com.
Praise For…
---
"A charming account of pride and persistence." — Publishers Weekly
"This is an up-close introduction to Austen…[and] a story of a girl's empowerment." — Booklist
"Hopkinson's light, conversational tone and obvious appreciation for her subject combine with Qin's lively ink-and-watercolor illustrations to create an engaging portrait of this talented writer. A perfectly pitched celebration of an esteemed author." — Kirkus Reviews
A lively take on a woman who, despite publishing conventions that favored male writers, refused to let her authorial voice remain mute. This manages to successfully introduce Austen's characteristic wit and social commentary to an audience who would otherwise be too young to digest the original works. A delightful read. — Bulletin of the Center for Children's Books